In the mid 1800s in America, the women who founded our sororities stood together for the right to go to college, thus beginning a sorority movement. Now, almost 150 years later and more than 5 million strong, we vow to continue our Founders' legacy by standing together again to help girls and women go to school around the world.
Circle of Sisterhood is comprised of women, who have in common a college education. We know that access to quality schooling affords a better life for a woman and that of her family. For too many girls and women around the world, access to quality education is often limited. And education is the answer to many of the global issues related to women – poverty, oppression, misogyny, brutality. Ultimately, more and more educated girls will mean stronger and healthier villages, communities and entire countries.
One person can make a small difference. But as a community of 5 million sorority women, our collective efforts will be transforming for generations to come.
Visit Circle of Sisterhood

The Ability Experience, formerly Push America, is a 501(c)(3) nonprofit organization that serves people with disabilities. The Ability Experience was founded in 1977 as the national philanthropy of Pi Kappa Phi Fraternity with the purpose of instilling lifelong service in its members and enhancing the quality of life for people with disabilities. Although the organization is still fulfilling the purpose for which it was intended, The Ability Experience has grown into a nationally recognized nonprofit with numerous programs educating undergraduates, alumni and communities about the abilities of people with disabilities.
The Ability Experience's mission is, "We use shared experiences to support people with disabilities and develop the men of Pi Kappa Phi into servant leaders." which has been fulfilled for more than 35 years. Although the wording may have been changed, The Ability Experience's vision to "Create a community, one relationship at a time, where the abilities of all people are recognized and valued," remains unchanged.
Through programs of all kinds, participants display The Ability Experience's four core values (abilities, teamwork, empathy and integrity) while serving others. Although the funds raised are invaluable, just as important is an increased awareness of the amazing things people with disabilities can do, as opposed to focusing on what they can't.
Visit The Ability Experience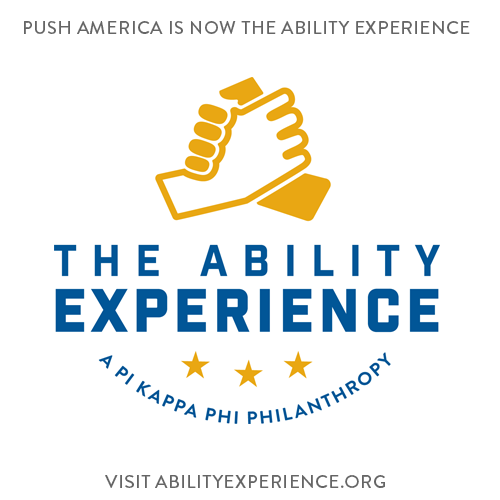 The Novak Institute for Hazing Prevention
The Novak Institute for Hazing Prevention tackles the challenging public health problem of hazing in a totally unique way. This four-day, interactive experience teaches diverse groups of interdisciplinary participants how to address hazing from a strategic approach that focuses on prevention rather than just response.
Nationally recognized faculty teach a prevention framework based on proven principles that are grounded in research. The Institute is geared toward students and both individuals and teams of professionals who want to take whey they've learned back to their communities to implement an interdisciplinary hazing prevention program.
The Novak Institute utilizes multiple learning strategies that allow participants to think critically about concepts while providing opportunities to apply the tools in the Institute's learning community. Since the Institute curriculum design allows for individuals and teams to learn together, we encourage participation by interdisciplinary teams. Teams can comprise professionals who work in a variety of capacities that may find the Institute beneficial as a means to begin or refresh hazing prevention initiatives.
Visit The Novak Institute for Hazing Prevention

The nonprofit Gordie Foundation was founded in Dallas in 2004 by Michael and Leslie Lanahan, whose son, Lynn Gordon "Gordie" Bailey Jr., died of an alcohol overdose at the University of Colorado after a fraternity initiation ceremony on September 17, 2004. As part of the hazing ritual, Gordie and his 26 other pledge brothers were "encouraged" to drink four handles (1.75 liter bottles) of whiskey and six (1.5 liter) bottles of wine in 30 minutes. Later in the evening, a visibly intoxicated Gordie was left to "sleep it off." He was found dead the next morning, face down on the floor of his fraternity house. No one had called for help. In just six years, the Gordie Foundation made an impact on hundreds of thousands of students across the country through its programs and educational efforts.
The Gordie Center for Substance Abuse Prevention
In the summer of 2010, the Gordie Foundation and CASE joined forces to become the Gordie Center for Substance Abuse Prevention in Student Health's Office of Health Promotion. The Gordie Center is dedicated to honoring Gordie's memory by creating and distributing programs to reduce hazardous drinking and promote peer intervention among young adults. The Gordie Center builds on CASE's 23-year history of developing effective, award-winning substance abuse prevention programs for the University of Virginia community and beyond. The Gordie Center carries on many of the efforts created through the Gordie Foundation, including National GORDIEday (part of National Hazing Prevention Week) as well as marketing the documentary, HAZE, which tells Gordie's story as a framework for examining the larger issues of alcohol and hazing on campus. The Gordie Center is committed to ensuring that Gordie's story continues to impact students by challenging attitudes about the true risks of hazing and alcohol use through the creation of the national Gordie's Call campaign.
Visit Gordie's Call