Click a team member for more information
Kim Novak is the Founder and Chief Executive Officer (CEO) of NovakTalks. She is recognized as national expert in student-focused risk management, engaging students in campus safety efforts and hazing prevention. She has presented at national conferences and on campuses around the country on a variety of topics including: effective accountability models, critical decision-making strategies, hazing prevention, current issues in higher education law and policy, campus safety efforts that engage students, as well as proactive risk management.
Amy Colvin Mustafa is the Executive Director of NovakTalks. She completed a Bachelor of Arts Degree with a major in General Studies in Business and a minor in Recreation from Bowling Green State University as well as a Master of Science Degree in College Student Personnel from the University of Tennessee. She is a member of Alpha Chi Omega.
Allison J. Foster has an undergraduate degree in Marketing from Stetson University, and a master's degree in Education with a concentration in Higher Education and Student Affairs from the University of Connecticut. She is a member of Alpha Chi Omega. Allison has spent over a decade of her time professionally and through volunteer work focused with fraternities and sororities. Her time professionally in the field has been as a staff member on various campuses and as a staff member for her national organization. During her time on staff at Alpha Chi Omega, Allison worked alongside staff and volunteers to assess current risk management practices and to develop a new prevention approach for the organization. In her most recent role on a campus she served as the Director overseeing student Leadership and Civic Engagement; she now serves as an Advancement Officer for Alpha Chi Omega.
Her time as a volunteer has ranged from serving as a chapter advisor for both Alpha Chi Omega and Pi Kappa Phi, a trained facilitator for Alcohol Skills Training Program (with Alpha Chi Omega and Pi Kappa Phi) and Ladder of Risk (with Pi Kappa Phi). She currently serves as a chapter advisor to a Pi Kappa Phi chapter and has worked with the chapter through their time as an associate chapter to receiving their charter and beyond.
Allison is passionate about creating an engaging experience for all participants when she facilitates. Through her work she has coached students through challenging situations, led volunteers to create sustainable change, and helped individuals identify their strengths and leadership capacities. Allison understands what it takes to be a change agent in the higher education – both as a student, volunteer, or professional. Using humor in her approach, she seeks to hear all members and ensure individuals walk away with an experience which aligns with the expectation of the program she is leading.
Austin Mckain currently serves as the Undergraduate President for the Tennessee Eta Chapter of Sigma Phi Epsilon at Austin Peay State University. Austin freelances as a graphic artist for higher education professionals and their affiliates; he is particularly skilled in Adobe's creative suite. Austin's home is the Greater Nashville Area.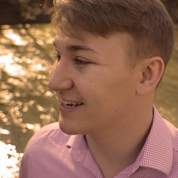 Austin Mckain
Designer
Josh Welch seeks to contribute to the learning of others through honest conversations and problem exploration. Through positions on college campuses and at his fraternity's headquarters he has developed an appreciation for complex systems and the principles of problem solving. Josh brings real talk, passion and a sense of urgency to his work with students, staff and volunteers. Having spent over 9 years working with student organizations he's learned that the student voice MUST be both sought out and respected when creating communities of care.
Utilizing evidence-based practices and approaches, Josh identifies strategies for addressing a variety of issues. As an educator and advocate he appreciates the opportunities to meet people where they are and learn with them in those moments. He has been invited to serve as a facilitator and instructor for several national programs such as IMPACT & UIFI as well as to Headquarters' leadership programs offered by several inter/national fraternities and sororities.
Amanda Blount completed a Bachelor of Science Degree in Elementary Education from Florida Southern College and a Master of Science in Higher Education from Florida State University. Amanda is currently pursuing an Ed.D. in Organizational Leadership from Southeastern University. She is a member of Kappa Delta Sorority.
Amanda brings over 15 years of knowledge and experience working professionally and a volunteer within various non-profit organizations and college/universities communities. Amanda's work has focused on advising fraternity/sorority communities, advising Student Government, strategic planning, volunteer recruitment, student conduct, Title IX investigations and education, curriculum design, and program assessment.
Amanda has served as a national volunteer for Kappa Delta Sorority for 10 years and is currently serving as Board President of Camp Fire Sunshine Central Florida, is a member of her church council, and a past board member of the Junior League of Lakeland. A Florida native, Amanda currently lives in Lakeland, Florida and serves as the Director of Accountability, Education, and Compliance at Florida Southern College.
One of Amanda's favorite authors, Simon Sinek shared that "Our passion lies deep in who we are, not what we do." Amanda believes that taking the time to critically think about individual and organization purpose will create amazing outcomes on campuses and in our communities.
Rick brings over 10 years of knowledge and experience working professionally as well as voluntarily in the nonprofit and higher education industries. Rick has worked as a professional staff member of the Pi Kappa Alpha Fraternity, Alpha Gamma Delta Fraternity, as well as the North-American Interfraternity Conference. Rick's work has focused on leadership development, program management, mentoring programs, as well as designing and developing best practices to engage volunteers. He has not only created programs to elevate the knowledge and awareness of fraternity and sorority members, he has also actively worked to expand the conversation of the communities in which fraternities and sororities exist.
Chris DeEulis is a lifelong learner and educator focused on helping people to challenge the status quo and create positive change in their organizations. Chris has been developing and delivering curriculum for fraternities and sororities and continues to seek out new opportunities. His passion for leadership development and empowerment drives his motivation to help others succeed. He is excited to help others break down problems that they are facing and address the complex, nuanced issues of today.
Chris received his Bachelor of Arts from Central Michigan University in Spanish with a minor in Leadership Studies, and his Master of Arts in Student Affairs Administration in Higher Education from Ball State University. He currently serves as the Assistant Director of Fraternity, Sorority and Cooperative Life at Purdue University. In his role, Chris advises NPHC, it's member fraternities and sororities, IFC chapters, as well as local organizations.
Chris has also helped to develop curriculum for several different institutions and organizations including work with Lambda Phi Epsilon International Fraternity, Inc. and his fraternity Sigma Alpha Epsilon. He is a trained QPR Instructor, and a Gallup Certified Strengths Coach.
Keith Ellis has been recognized nationally for his efforts in hazing prevention, risk management education and leading change in fraternity and sorority communities across the Southeastern United States. Keith brings passion to the topic of prevention education and community change and has led workshops for students and professionals at numerous regional and national conferences. In 2010 Keith was added to the faculty of the Novak Institute for Hazing Prevention where he engages participants in conversations of partnership, policy, research and applying prevention science to the topic of hazing. In 2012 Keith organized a conversation that engaged Campus Fraternity Advisors and IFC Presidents from Southeastern Conference schools with National Fraternity Executives in discussion about fraternity risk management. Keith is committed to the creation of environments where students, faculty and staff can come together in partnership and shared responsibility.
Evan Englander is fervent about turning thoughts into actions and actions into experiences for the students he gets the pleasure to interact with. This passion began brewing during his experience in Phi Kappa Psi Fraternity at SUNY (State University of New York) Oneonta. His love and belief in the power of fraternity drives him to work with students to make their fraternity/sorority experience as fulfilling, educational and fun as they can be.
J.D. Louk is passionate about helping students find their voices and maximizing their potential in a very busy world. J.D. is currently the Director of Operations for Alpha Phi International Fraternity, focusing on risk management and prevention. In this role, J.D. regularly works with women on a variety of challenging issues. He has also facilitated and presented programs at various college campuses, the North-American Interfraternity Conference and the National Panhellenic Conference on such diverse and timely topics as mental health, sexual assault, member engagement and navigating sticky situations.
Previously, J.D. has worked with college students in professional roles focused on fraternity and sorority life, housing and residence life, campus affairs, and leadership development. One of his favorite roles was being a local recruitment advisor for an Alpha Phi chapter in Miami, where he had a chance to actively mentor and learn from the women in the chapter. J.D. began his career working for the international headquarters of the Kappa Sigma Fraternity, of which he is an active member himself.
J.D. attained a B.A. in Communications and Foreign Languages from Austin Peay State University, and an M.Ed from Georgia Southern University with a concentration in higher education. Among his academic studies was evaluating the perceived barriers to collaboration between historically European-American and historically African-American fraternities and sororities.
In his free time, J.D. loves to be active – running, hiking, traveling, and sightseeing. No detail goes unnoticed when traveling – J.D. enjoys studying, photographing and sharing with others the interesting artwork found in airport terminals, the varied architecture of cities he visits, and the natural beauty of the beach, mountains and flowers he encounters.
Michael served as the Executive Director for NovakTalks from 2013-2016. He graduated from Transylvania University in 2003 with a Bachelors of Arts in Accounting. Upon graduation he joined the staff of Kappa Alpha Order and for thirteen years served in various roles including Assistant Executive Director for Alumni Affairs, Director of Operations, Director of Fraternity Services, Director of Chapter Services and Educational and Leadership Consultant. He currently serves as the Chief Financial Officer (CFO) for the North-American Interfraternity Conference (NIC). Michael is a past presenter at the FRMT Risk Management College, the Association of Fraternity Values and Leadership (AFLV) Central and West and the AFA Annual Meeting. He has worked with students and volunteers on over 125 college and university campuses.